Southwestern Cedar Oil – ALL NATURAL, Completely Organic Pest Control Products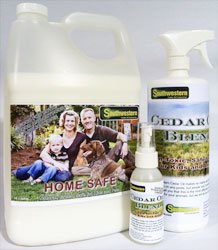 The Safest All Natural Completely Organic Pest Control Formula On The Planet
For more than 1000 years, cedar oil has been the safest All Natural, Completely Organic Pest Control Products on the Planet. We have just perfected it. Our All Natural Pest Control Formulas are a scientifically proven method of pest control.
Simple to apply
Inexpensive
100% organic
Our cedar oil formulas cause no harm to people or the environment. CEDAR OIL focuses on building a barrier of entry on the perimeter of your property, so bugs stay out of your house.
At Southwestern Cedar Oil we are dedicated to reducing the health risk and environmental impacts of pesticides and promoting organic alternatives to homeowners across America, one home at a time. Providing natural pest control products and completely organic pest control products to everyone!
OUR CEDAR OIL FORMULATION is instrumental in control of many insects. We have had many studies done that has proven the effectiveness of our products on many insects. Our DO-IT-YOURSELF PEST CONTROL products are 100% organic, which is SAFE for YOU, YOUR CHILDREN, GRANDCHILDREN, PETS & the ENVIROMENT.
Basic Eradication Package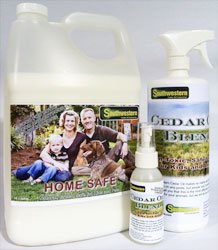 • 1 Quart of Pre-mix Home Safe
• 1 32oz Cedar Oil Blend
• 1 3oz Personal Travel Size Spritzer(s). Use It Anywhere You Go!
• FREE SHIPPING!

This package recommended for new and/or small infestations limited to areas such as beds and furniture, a single room or small confined space.

$59.95 includes free shipping.
Your home is your most important investment & your families health is your number one concern. That's why we take it so seriously when it comes to your pest management program. If your looking for the facts, the solutions and the truth about pest control you've come to the right place. If your currently using toxic, harmful chemicals (insecticides) around your home or out of a misting system (which kill beneficial insects
HONEY BEE'S, BUTTERFLIES AND BEETLES) and you believe there is no alternatives, then you should know that the majority of chemical pest control products being used in and around your home simply don't work anymore and in-fact most bugs are immune to these poisons, plus our environment, water ways and the public have had enough of them.
Our Special Formula not only kills bugs, but also repels them from coming back!
READ ABOUT THE TOXIC CHEMICALS AND THE DEVASTATING EFFECTS THEY HAVE CAUSED & THEN WE HOPE YOU'LL JOIN US IN SAYING NO TO THESE CHEMICALS & FINALLY SAY YES TO ALL NATURAL COMPLETELY

ORGANIC PEST CONTROL PRODUCTS

THAT WORK…
Southwestern Cedar Oil Introduction Video

If your looking to truly get rid of your insect problem safely, then we have the answers you and your community have been looking for. Our 100% all Natural/Organic Cedar Oil Products are Rocking the very foundation of the Pest Control Industry as we know it today!
---
Advanced Eradication Package
(For mite, flea, bed bug and tick eradication)
• 1 Gallon of Pre-mix Home Safe
• 1 32oz Cedar Oil Blend
• 1 3oz Personal Travel Size Spritzer(s). Use It Anywhere You Go!
• FREE SHIPPING!
This package recommended for existing infestations in multiple rooms or larger areas.
$89.95 includes free shipping.
THE PRODUCT THAT NATURALLY WORKS
The natural oil from cedar wood is environmentally safe. The oil is steamed out of the cedar wood found on ranches from previous clearing operations for livestock grazing. There are no chemicals involved in the process. Our refined cedar oil Products have the authentic cedar fragrance, just as it is in nature. Cedar wood has been used for 1000′s of years as one of the mother nature's own insect repellents, we just perfected it. Texas cattle fences are built with cedar post which naturally resist decay and pest infestation for 50 years or more. The Cedars of Lebanon were used to build King Solomon's' Tomb. The Egyptians used papaya leaves soaked in cedar oil in the mummification of their dead. Our pioneering forefathers used cedar sawdust on the floors of their cabins to rid them from countless pests. Native Americans would rub their bodies with cedar needles to prevent mosquitoes and other biting bugs from feasting on them.
Natural Completely Organic Insect Control Formula.

How To Get Rid Of Bed Bugs Naturally – Special Report

Thank you for checking out this article on

Organic Pest Control Products

.  Please check back with us as we add new articles, blogs and videos daily!
Follow Us On Pinterest & Facebook
Organic For Life


Promote Your Page Too
Here are some other blogs and videos that also cover Organic Pest Control Products: